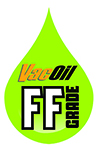 VacOil® FF Grade vacuum pump flushing fluid is designed to assist in the internal cleaning of particles and sludge build-up in mechanical vacuum pumps. Using FF Grade Flusing Fluid after change your oil as part of your regular pump maintenance will ensure your vacuum pump is free of contaminants. Low viscosity helps free contamination from internal parts and discharge it through the drain valve.
Using FF Grade Flushing Fluid
Vacuum pump fluid must be changed at regular intervals in order remove contaminants that have collected in the fluid and to restore lubricity.
1. When the pump oil is ready to be changed, drain the oil from the pump.
2. Fill the pump with FF Grade Flushing Fluid and run the pump for 10 minutes.
3. Drain all flushing fluid through the drain valve and fill with clean oil.
Specifications

Vapor Pressure: < 1 x 10-4 Torr
Viscosity @ 100 ºF: 25.3 cSt / 120.3 SUS
Viscosity @ 200 ºF: 4.4 cSt / 40 SUSo
Flash Point: 180ºC / 356ºF
Pour Point: -12ºC / +11ºF
Specific Gravity: 0.86

Benefits

Lower viscosity frees contamination from internal parts
Extend pump life through regular use after ever oil change

Brand Equivalents




Vacuum Pump Compatibility

FF Grade Flushing fluid is ideal for all types of mechanical pumps using hydrocarbon fluids.

Resources